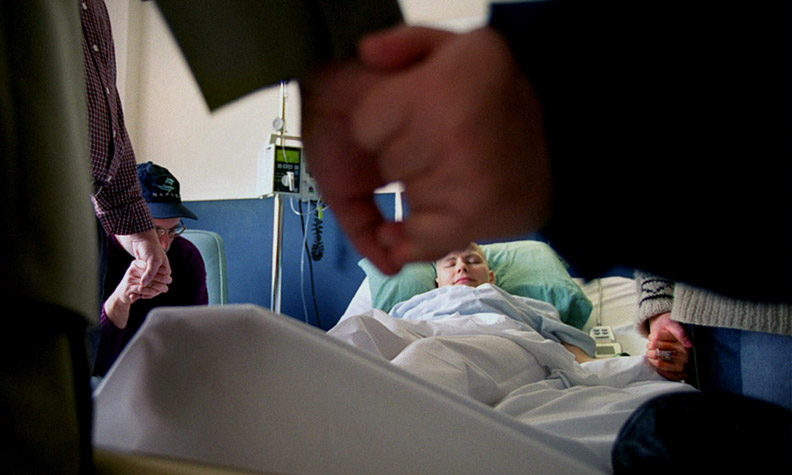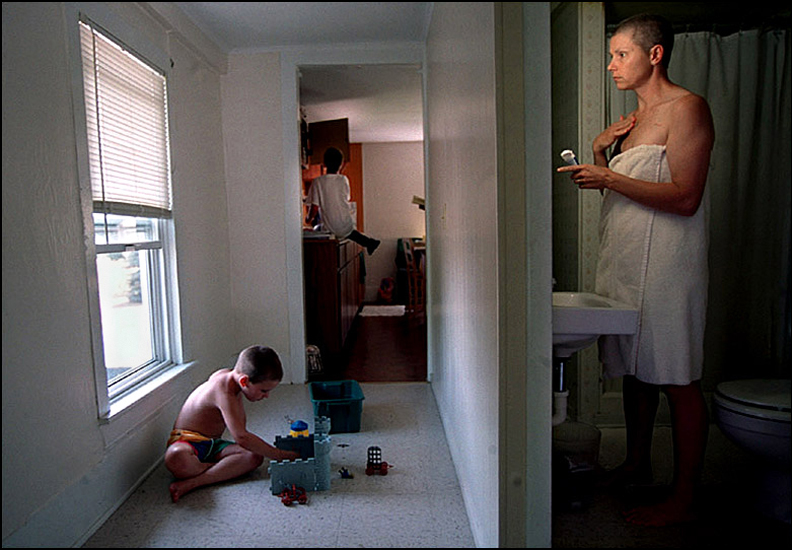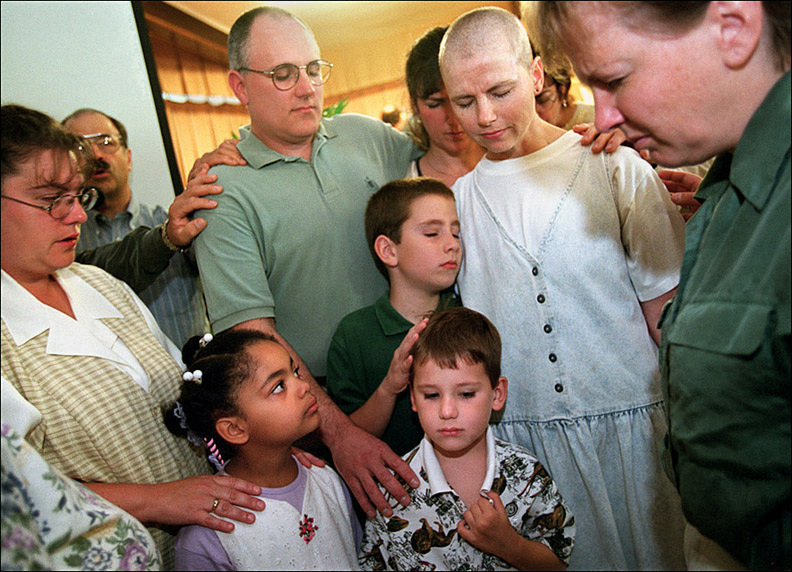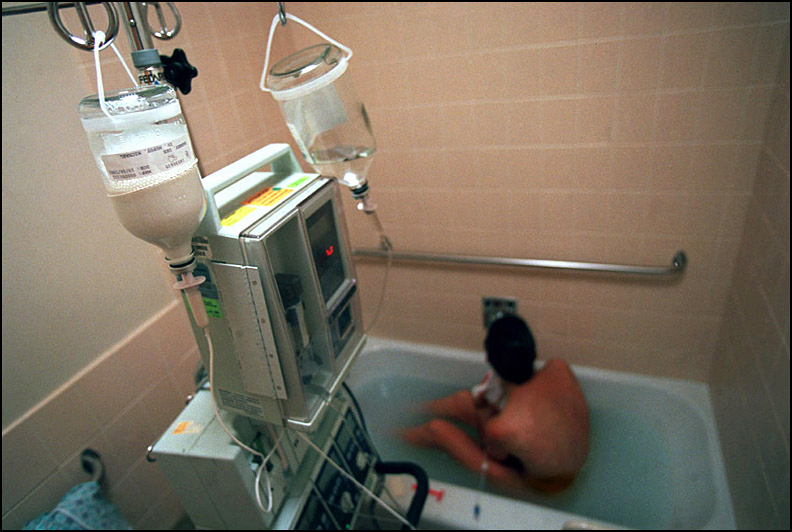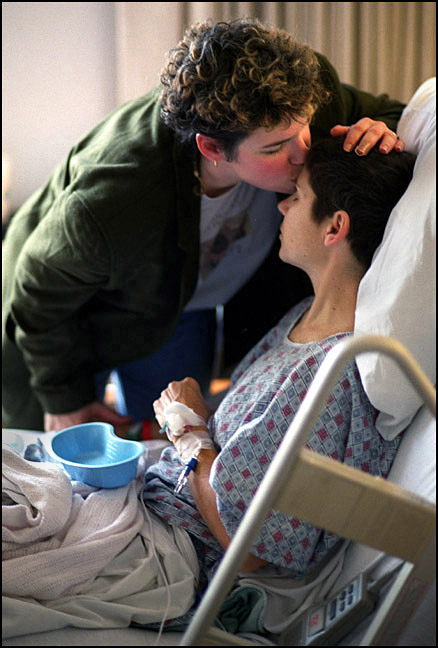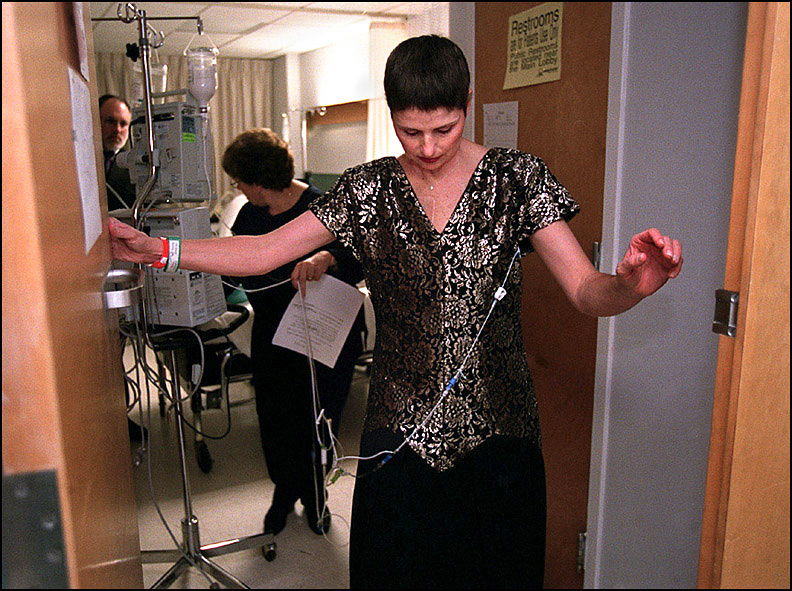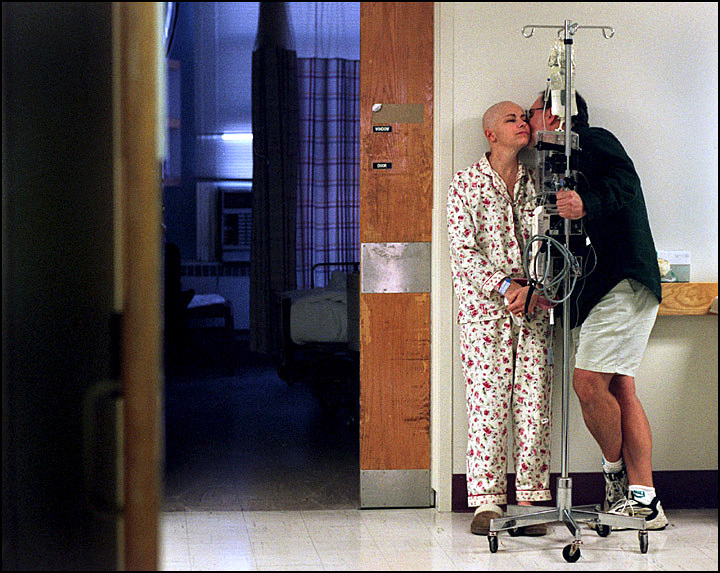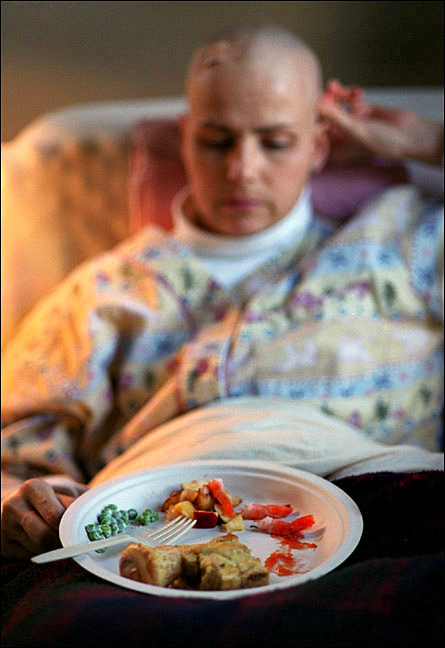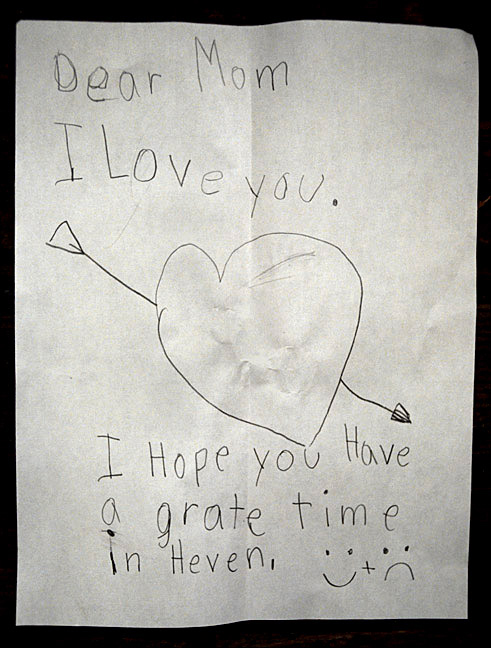 Dee Barney reflects after receiving a supportive call. Dee had been experiencing her worst pain from chemotherapy since her treatment began in December. Taxotere and Taxol, sister drugs, both caused muscle cramps in Dee's back and joints.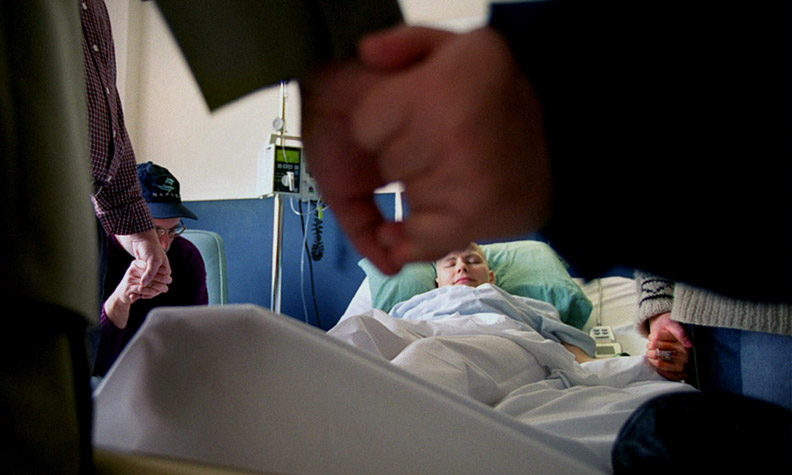 Dee Barney of Oswego lies in her hospital bed before her mastectomy praying with family and friends.
Dee Barney lies beneath a linear accelerator used for radiation therapy. Dee would lie with her arm over her head at least a half hour a day to receive radiation to her chest wall, skin, and lymph nodes in her right underarm and neck.
Dee receives roses from her husband, Neil, at her last chemo treatment. Dee asked a friend to drive her so Neil could work. "He never gets me flowers," Dee said. "It was the perfect time... it was so deep that it was hard to express."
Dee Barney does her Superman imitation for her friend and physical therapist, Robert Berkley. Berkley helped her work on her right arm which was affected by her mastectomy.
Dee Barney waves her pink "survivor" hat amid a sea of pink clad breast cancer survivors at the Susan G. Komen Race for the Cure."It was a lot more emotional than I thought it would be," she said.
Dee Barney takes a break with her two sons, Graham, 4, left, and Cassidy, 8, right, during homeschooling. Dee considered stopping Cassidy's homeschooling after her diagnosis to be her biggest sacrifice to cancer.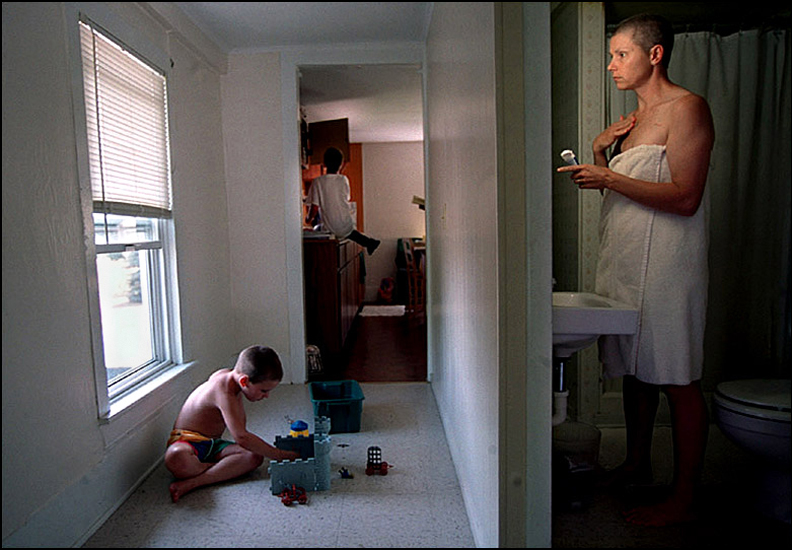 Dee Barney applies RadiaCare Gel on her chest after a shower while her boys, Graham, 4, left, and Cassidy, 8, middle, amuse themselves in the hallway and kitchen. Dee must use the gel to soothe and protect the part of her body being treated by radiation. During her six weeks of radiation, Dee is not allowed to use any other moisturizers, perfumes or deodorants because they might contain aluminum or other products that would interfere with the radiation.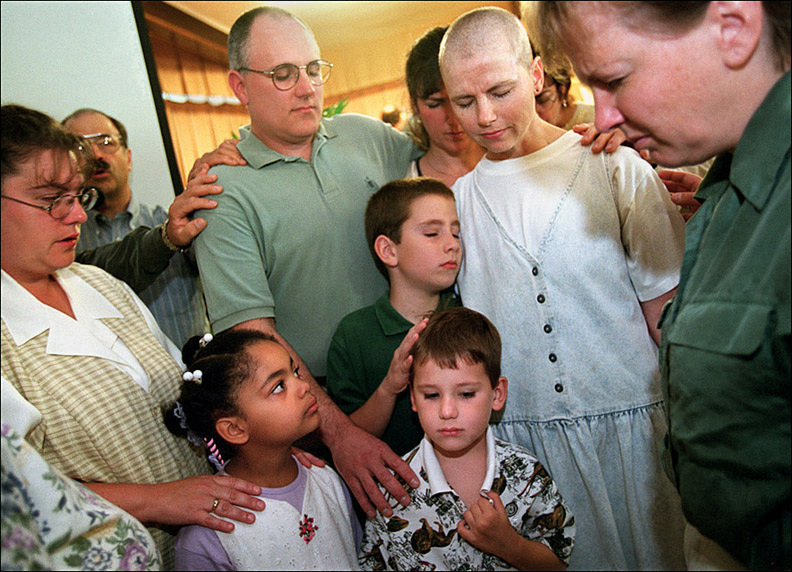 Members of Elim Grace Christian Church gather around the Barney family and pray with them during a church service. Two churches have helped the Barneys with meals, chores, and errands.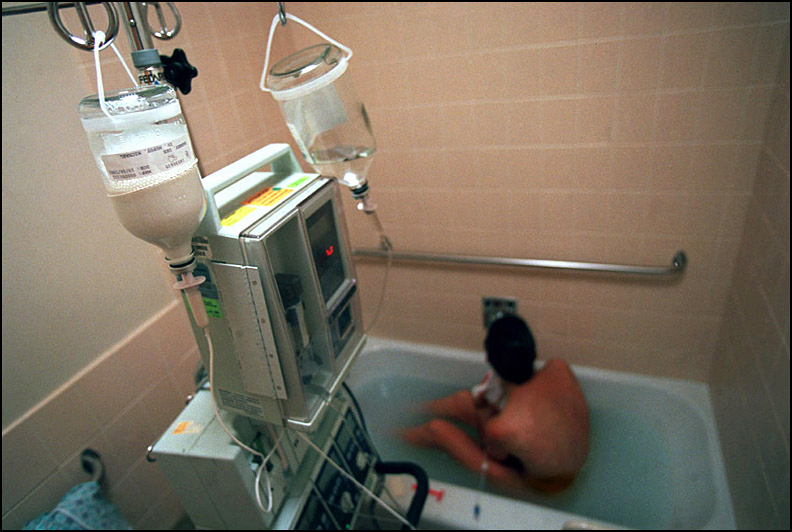 Dee Barney takes a bath before her 40th birthday party. She had to stay attached to an IV that administered a steroid to shrink tumors in her brain, morphine for pain, and a nutritional supplement because she hadn't eaten in a week.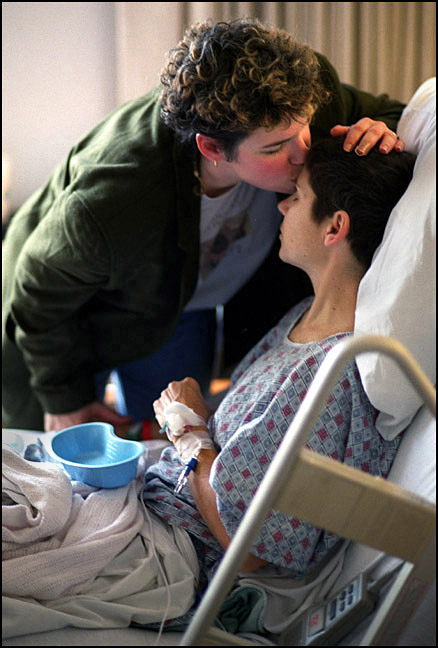 Sharon Darrow of Oswego visits Dee Barney at Oswego Hospital. Dee was admitted to the hospital after a CT scan showed two tumors in her brain. She had finished ten months of treatment for inflammatory breast cancer.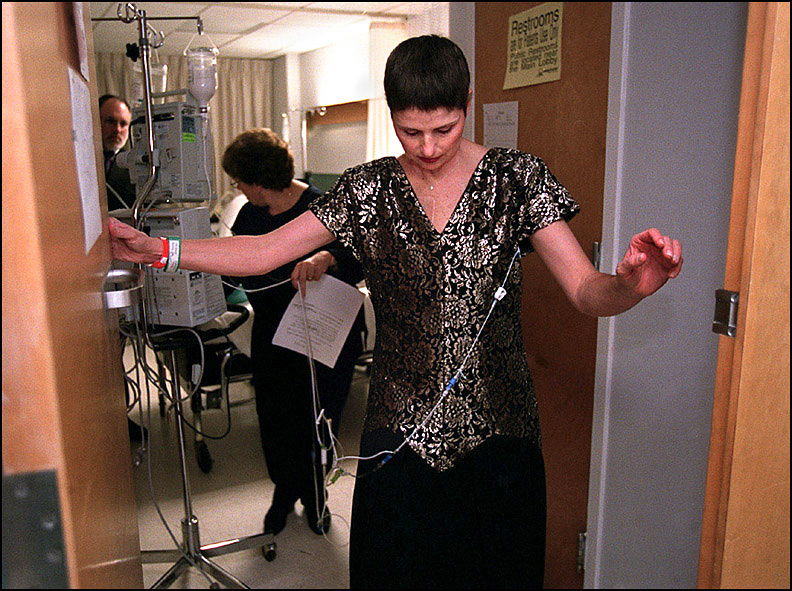 Dee leaves her hospital room to wait for the ambulance to transport her to her 40th birthday party a few blocks away. Dee planned the party while battling inflammatory breast cancer the past 11 months.
Dee Barney smiles as a friend enters her room at Oswego Hospital. She is being treated for cancerous tumors in her brain. Her condition has improved greatly since two days before her October 26 birthday.
Dee's oncologist, Dr. Sara Grethlein, tells her that the scans show no cancer in her chest, organs or bones. "I'm sorry, but there's no bad news," she said. "Shoot," jokes Dee's husband, Neil.
Neil Barney pours champagne on his head to celebrate the news that his wife, Dee, is in remission from inflammatory breast cancer.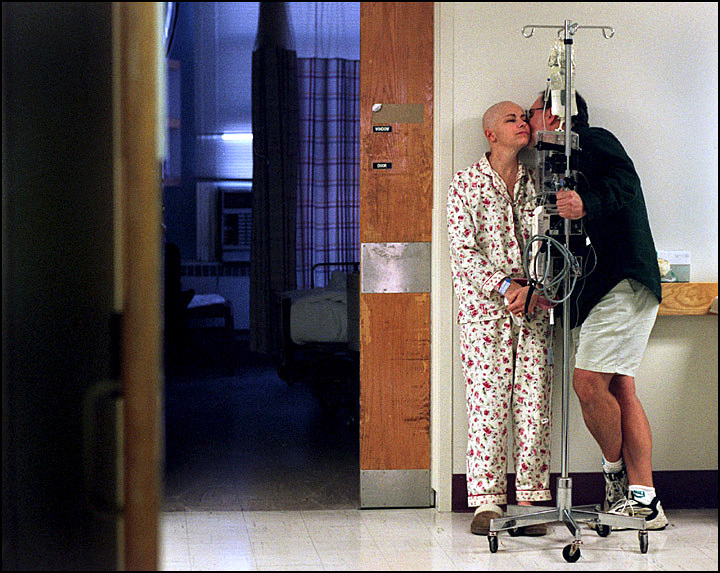 After a six day remission, Dee was admitted to the hospital with a headache and severe pain shooting pain down her back. A spinal tap showed the cancer had spread to her spinal fluid. Neil Barney kisses his wife outside her semi-private room.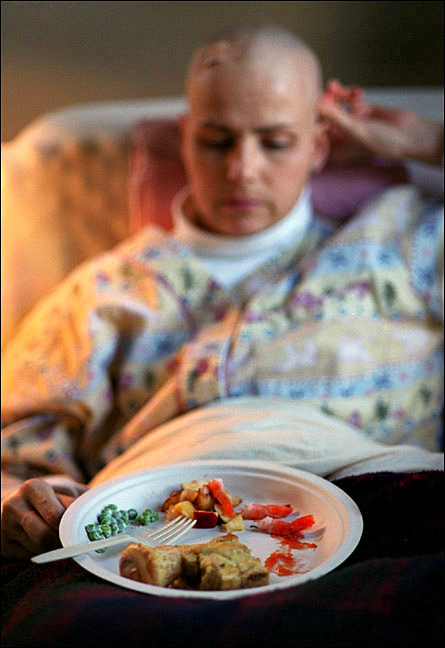 Dee rests after sampling her Christmas dinner. She had barely eaten during her two weeks at the hospital just before Christmas and she stopped eating the week after Christmas at home.
Neil Barney supports his wife, Dee, as she sits on the edge of the hospital bed in her living room. Dee has grown progressively weaker since Neil decided to seek help from Hospice. When asked what he expected from Hospice, he replied, "Dignity."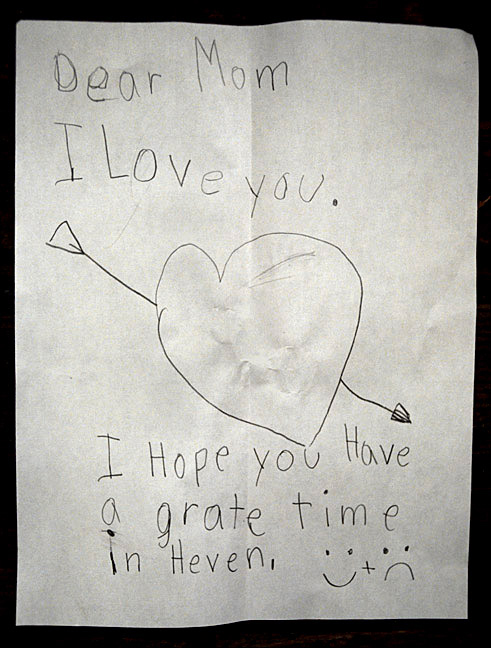 Here is a note that Cassidy Barney, 9, wrote to his mom, Dee Barney, hours after his dad, Neil, told him that she would soon die.
1
2
3
4
5
6
7
8
9
10
11
12
13
14
15
16
17
18
19
·
·
·
·
·
·
·
·
·
·
·
·
·
·
·
·
·
·
·