As boys, they fled civil war in the former southern Sudan, survived famine and life in refugee camps, and eventually emigrated to the United States. Many of these boys, now grown men, share a drive to return home to help the people they left behind. John Dau, Gabriel Bol Deng, Daniel Garang Amet and Angelo Kiir, who settled in Central New York, built clinics, schools and wells with the money they raised by sharing their stories of survival and perseverance. South Sudan separated from the northern Sudanese government in 2011, six years after the Sudanese Civil War ended, but peace was short-lived.
After the brief respite from conflict in the world's newest nation, war broke out again in December 2013 when political tensions arose between South Sudan's President Salva Kiir and Vice President Riek Machar. Thousands of civilians have been killed, more than 4 million people have fled their homes, hundreds of thousands of whom are refugees in neighboring countries, dashing hopes for a thriving democracy. Infrastructure such as clinics, hospitals and schools have been looted, destroyed and abandoned, including John Dau's Duk Lost Boys Clinic in Duk Payuel, which relocated to a nearby village. Dau and other former "lost boys" continue their fundraising efforts to rebuild South Sudan, where violence and political upheavals continue, endangering a new generation of boys and girls.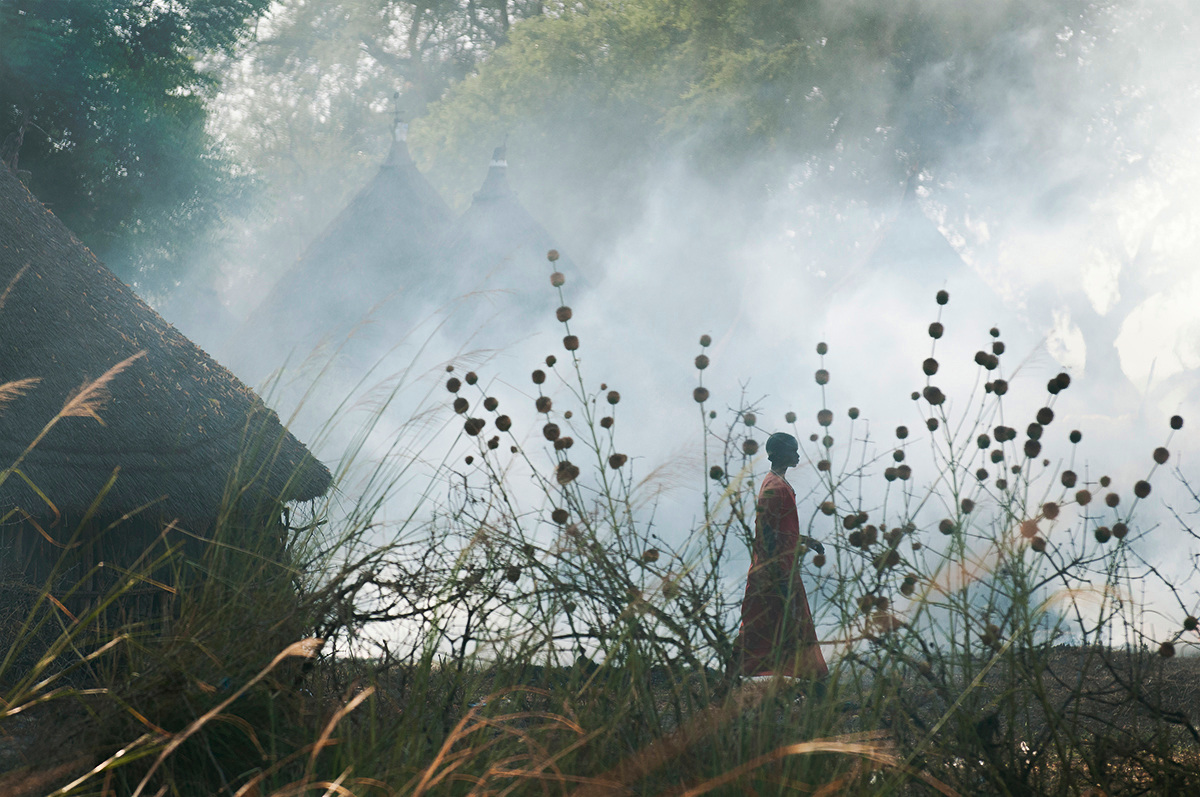 In Duk Payuel, South Sudan, burning cow dung creates smoke used to repel flies and mosquitoes, which carry harmful diseases. People with malaria, which is hyper-endemic in South Sudan, and other illnesses are treated at the nearby Duk Lost Boys Clinic. The clinic was made possible by John Dau, a former Lost Boy who fled the second Sudan Civil War as a child and eventually emigrated to the United States. He raised money to build the clinic by sharing his story of survival. The Duk Lost Boys Clinic was looted and nearly destroyed in the South Sudanese Civil War by rebel forces in March 2014 and was relocated to a nearby village.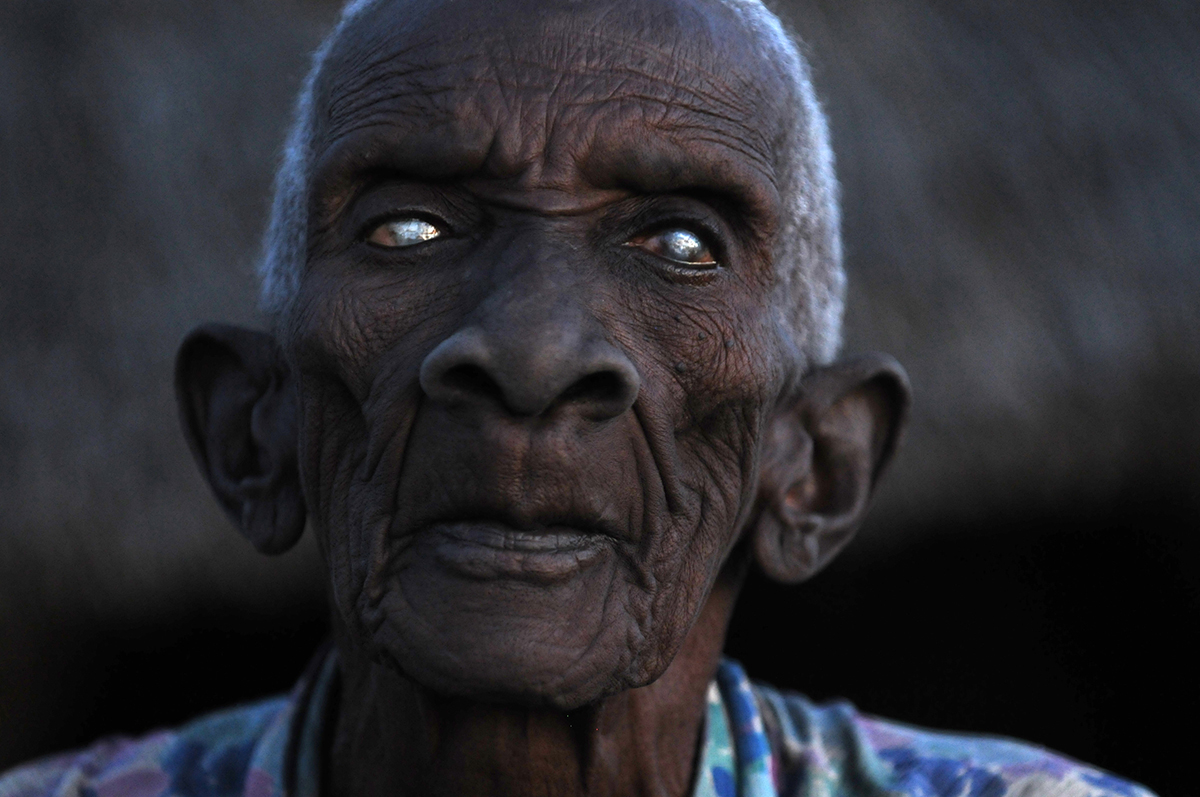 Mary Atit Thong, 75, of Duk Payuel, South Sudan, came to the Duk Lost Boys Clinic because she wanted to restore her vision. When northern soldiers returned to Duk Payuel during the Civil War in 1994, a soldier beat her with the butt of his gun. She lost her vision in 2005. "My eye is always in pain," she says.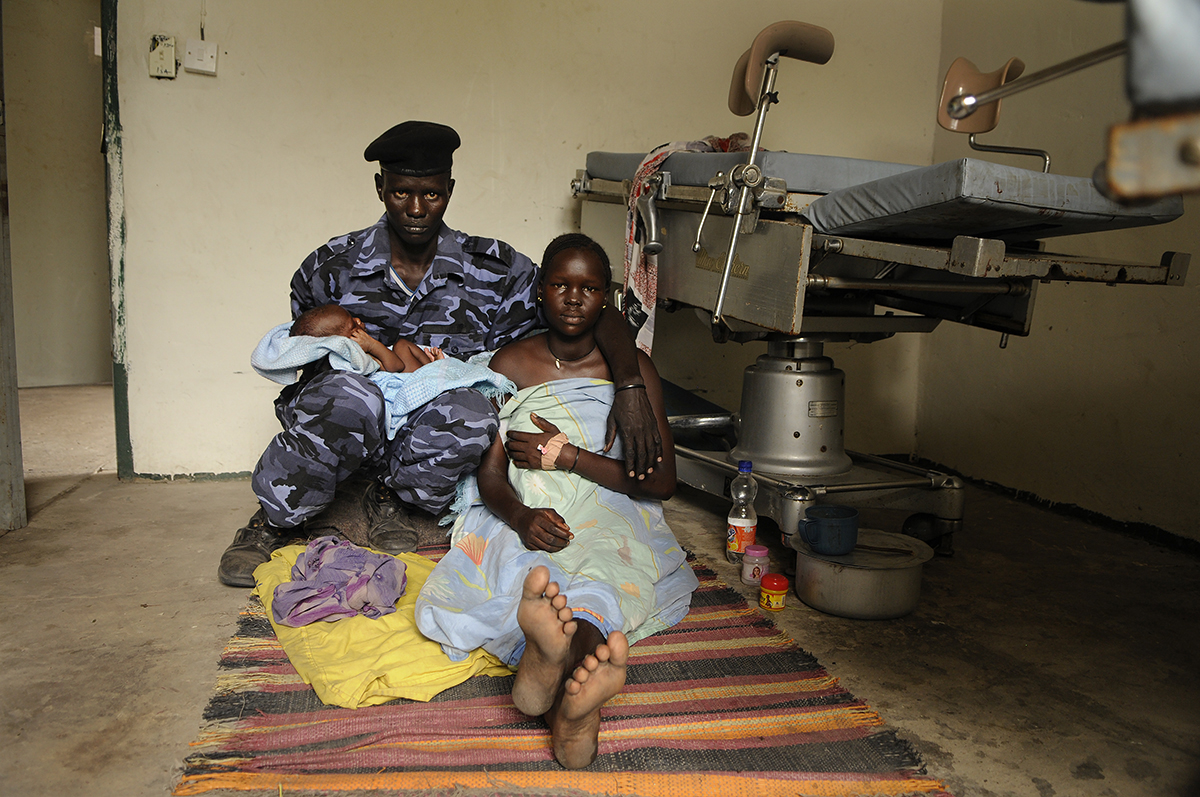 Alang Majuk Manyang, 16, right, traveled two hours to the Duk Lost Boys Clinic in Duk Payuel to give birth to her son, Akim Mathei. Her husband, Mathei Bol Atem, a police officer, holds their baby.
An elementary school student in Duk Payuel practices English as a classmate rests in the tree above.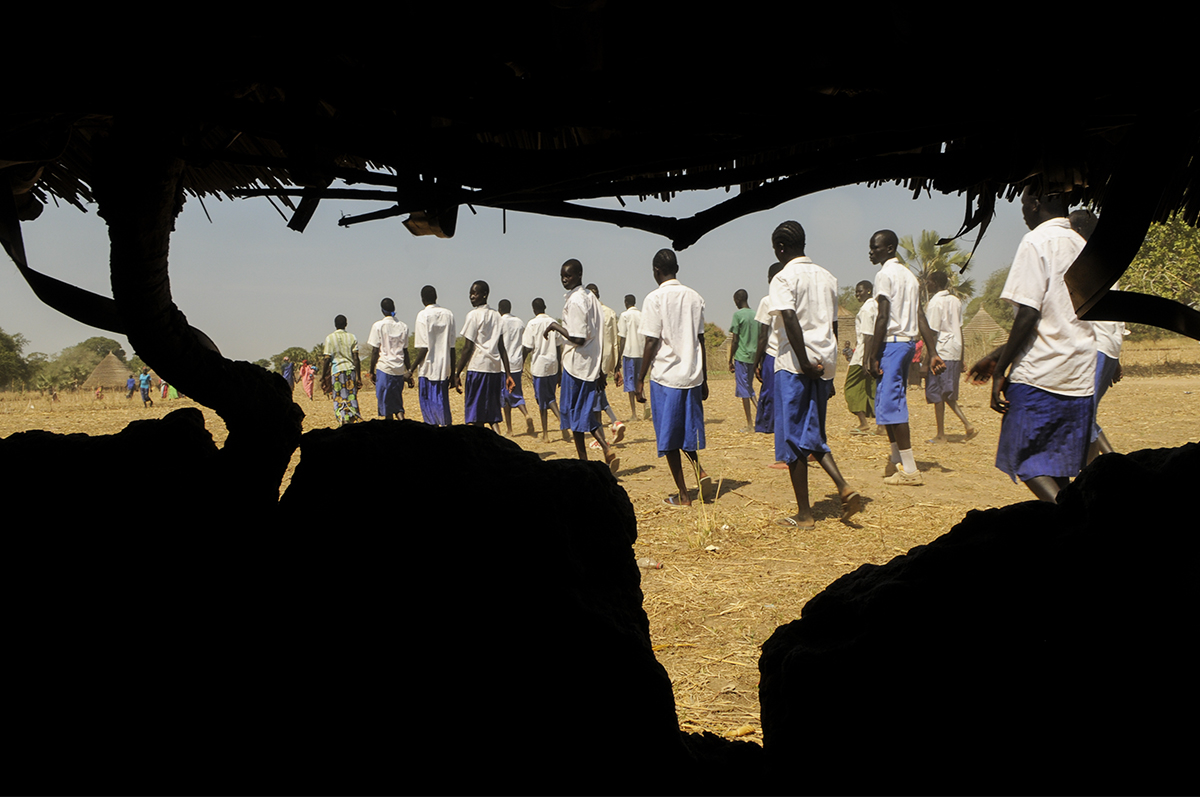 Ariang school children march and sing in Dinka, "The SPLA (Sudan People's Liberation Army) has tried through the gun to end the war, but the real peace will come from education." Gabriel Bol Deng, a former "Lost Boy" who lives in Syracuse, has raised about $200,000 for Ariang, his home village. He decided to build a school when he saw children learning under trees. He also drilled six wells.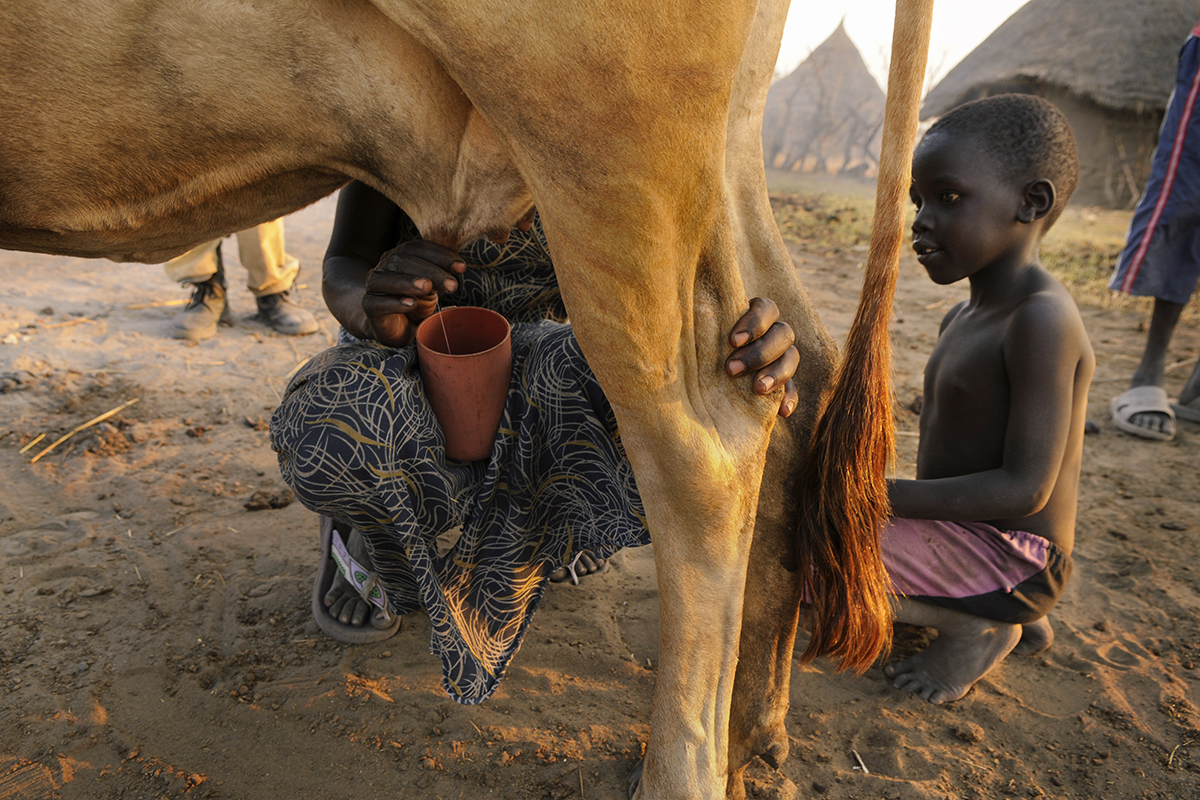 When Sudan's Civil War ended in 2005, refugees began returning home to South Sudan to rebuild. Six years later, on July 9, 2011, South Sudan gained independence from Sudan, but ethnic violence, beginning in December 2013, has led to food shortages, disease outbreaks and malnutrition.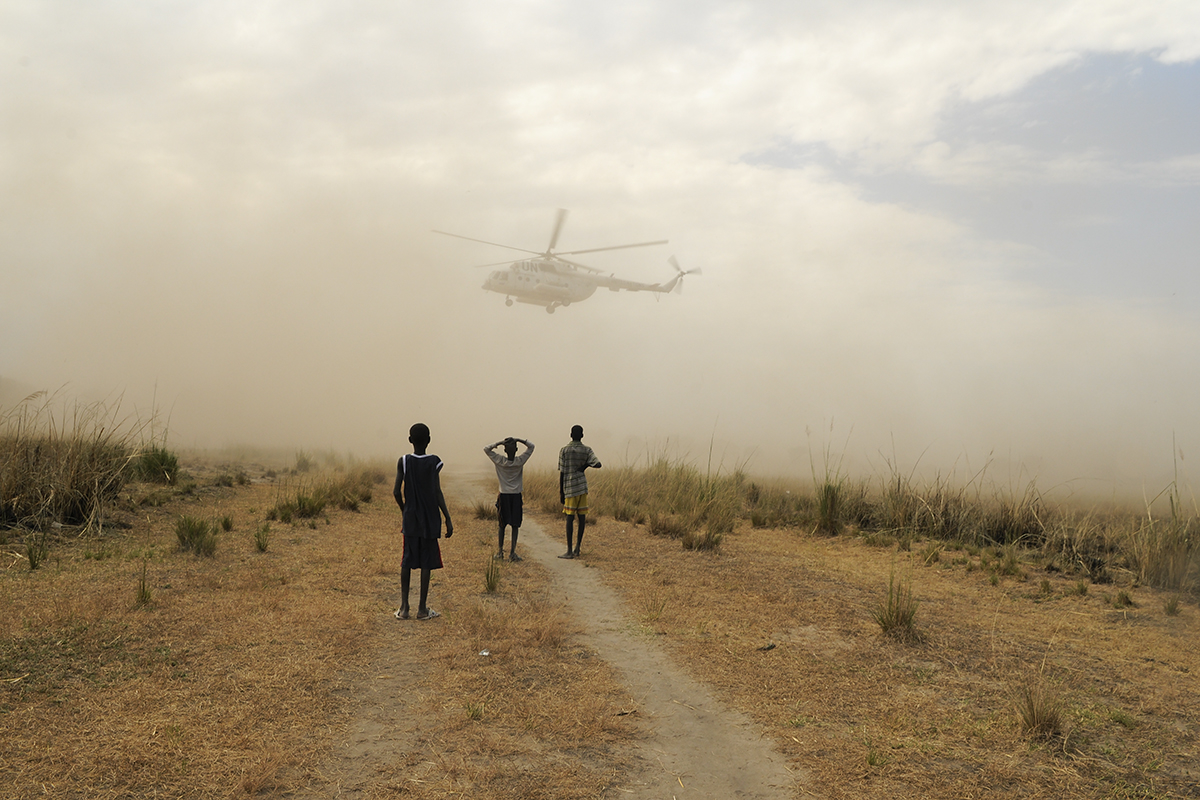 A United Nations helicopter takes off after southern Sudan officials came to Duk Payuel to encourage people to vote in the first multi-party election in 24 years. They also encouraged people to stop the inter-ethnic fighting because instability in the area could affect the January 2011 referendum to separate from the northern Sudan government. South Sudan voted to become independent of Sudan.
Saint Josephine Bakita Clinic will focus on women and children said Daniel Amet, who built the clinic and drilled two water wells in his hometown, Malakel.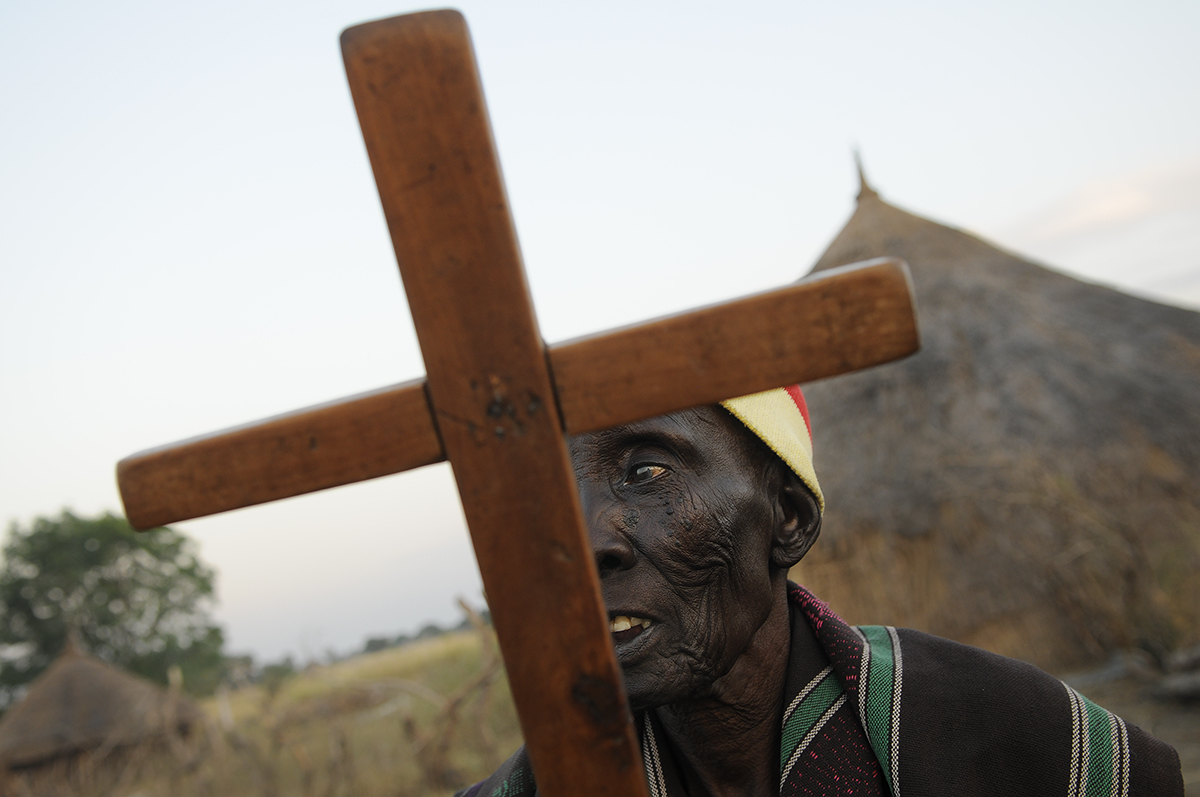 Martha Aman Mayen leads villagers of Duk Payuel in prayer and songs. South Sudan, formerly known as southern Sudan, is predominantly Christian and animist, a religion in which people believe everything in the natural world is inhabited by a spirit or soul. Northern Sudan is Islamic. During Sudan's Civil War, the northern Arab government attempted to convert the south to Islam.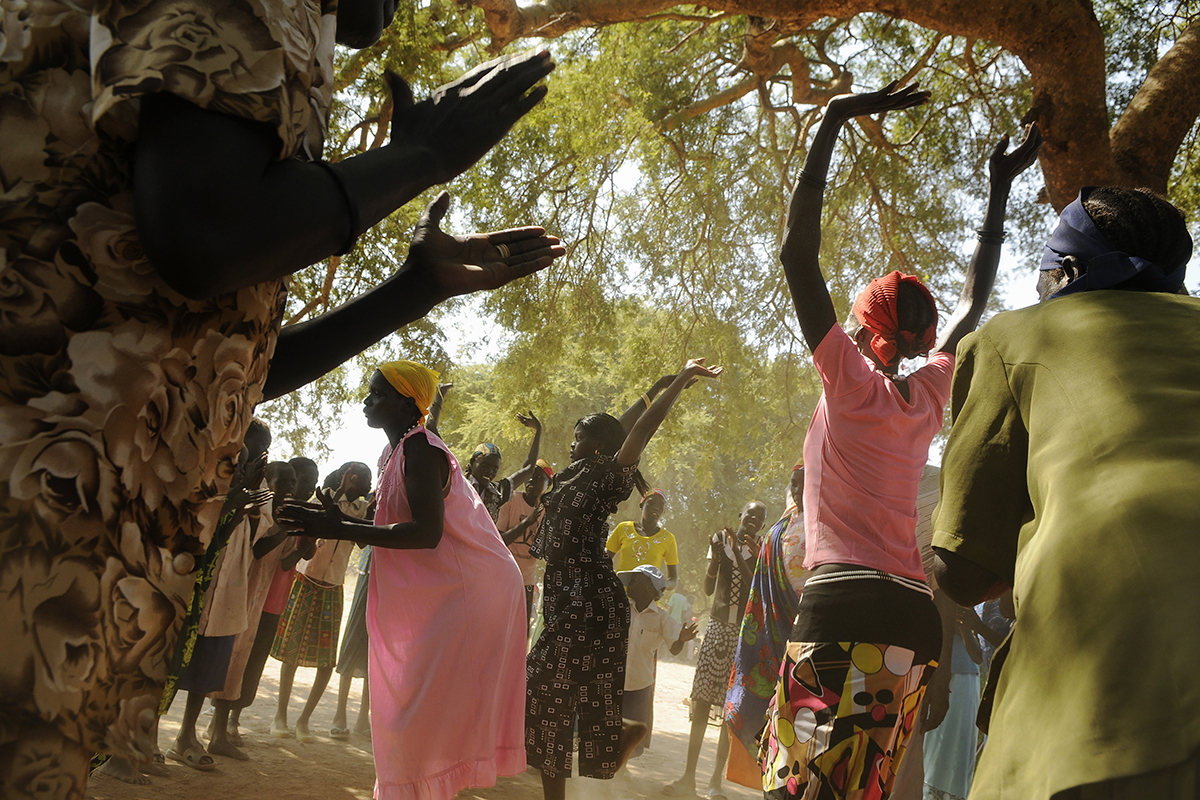 Women sing and dance as Gabriel Bol Deng, a former Lost Boy, visits Ariang, his home village, for the third time since fleeing the war in 1987. Gabriel, who settled in Syracuse, raised nearly $200,000 for Ariang to build a school and wells.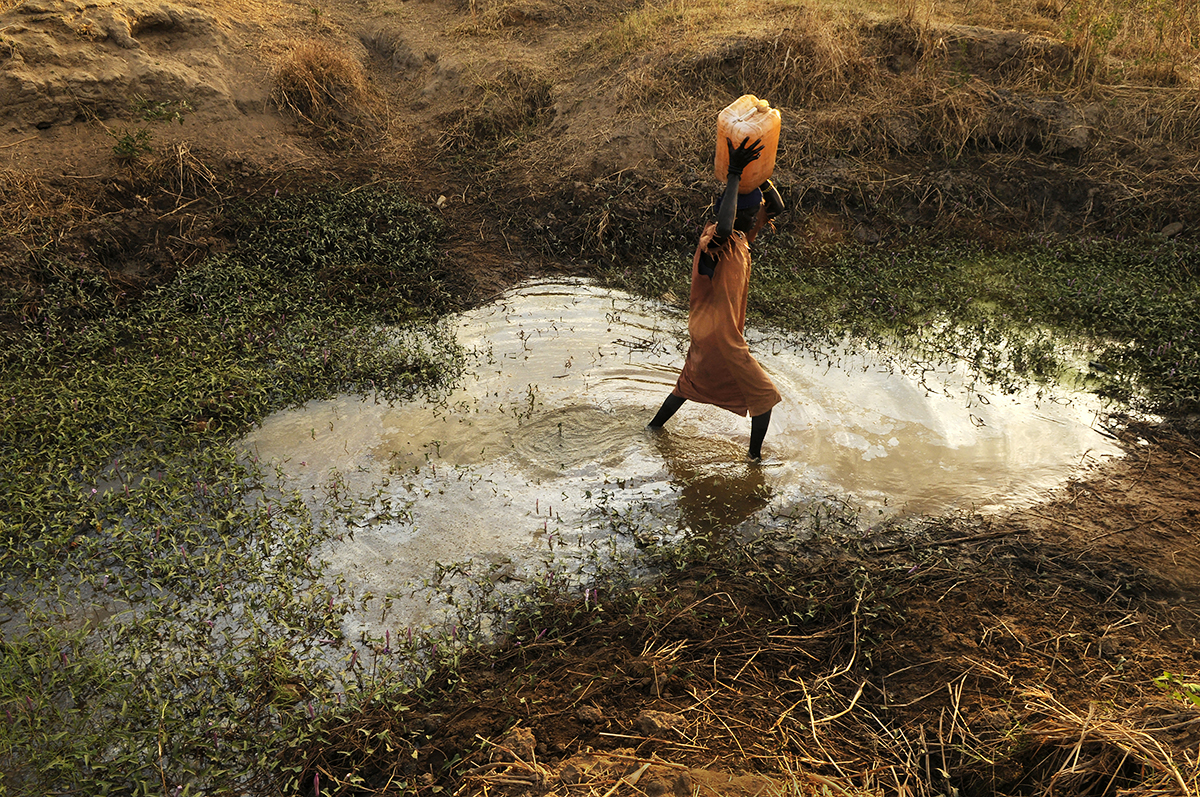 Pond water is used for tobacco plants in Ariang, Gabriel Bol Deng's home village. Deng built a system that supplies clean drinking water to the village.
A cut off plastic bottle gathers water from a well drilled by former Lost Boy Daniel Amet in Malakalel, Amet's home village in South Sudan.
A young girl attends a health education event outside John Dau's Lost Boys Clinic in Duk Payuel. Dau's decision to build a clinic is personal: Three of his siblings died when they were infants because of the lack of health care. He saw many childhood friends die from cholera, typhoid, measles and whooping cough as they journeyed to Ethiopia to escape the civil war. With the renewed violence in South Sudan, a new generation of children are at risk today.
Yar Akech, 26, was raised by her mother in refugee camps in Ethiopia and Kenya after her father died from lack of health care during the Sudanese Civil War. Akech was among a number of young people the Sudan People's Liberation Movement helped finish high school and college. She was a protege of the late John Garang, the leader of southern Sudan before he died in a helicopter crash in 2005. After receiving a degree in economics from a university in Kenya, Akech returned to southern Sudan in 2005 to promote girls education and drill wells. South Sudan gained independence Sudan as an outcome of the 2005 agreement that ended Africa's longest running civil war. Though the plight of the lost boys is well known, the story of Sudan's lost girls is often overlooked. Although they faced many of the same challenges as their male counterparts, few girls were offered the same opportunities. Out of 3,700 children chosen to start a new life in the U.S., only 89 were girls.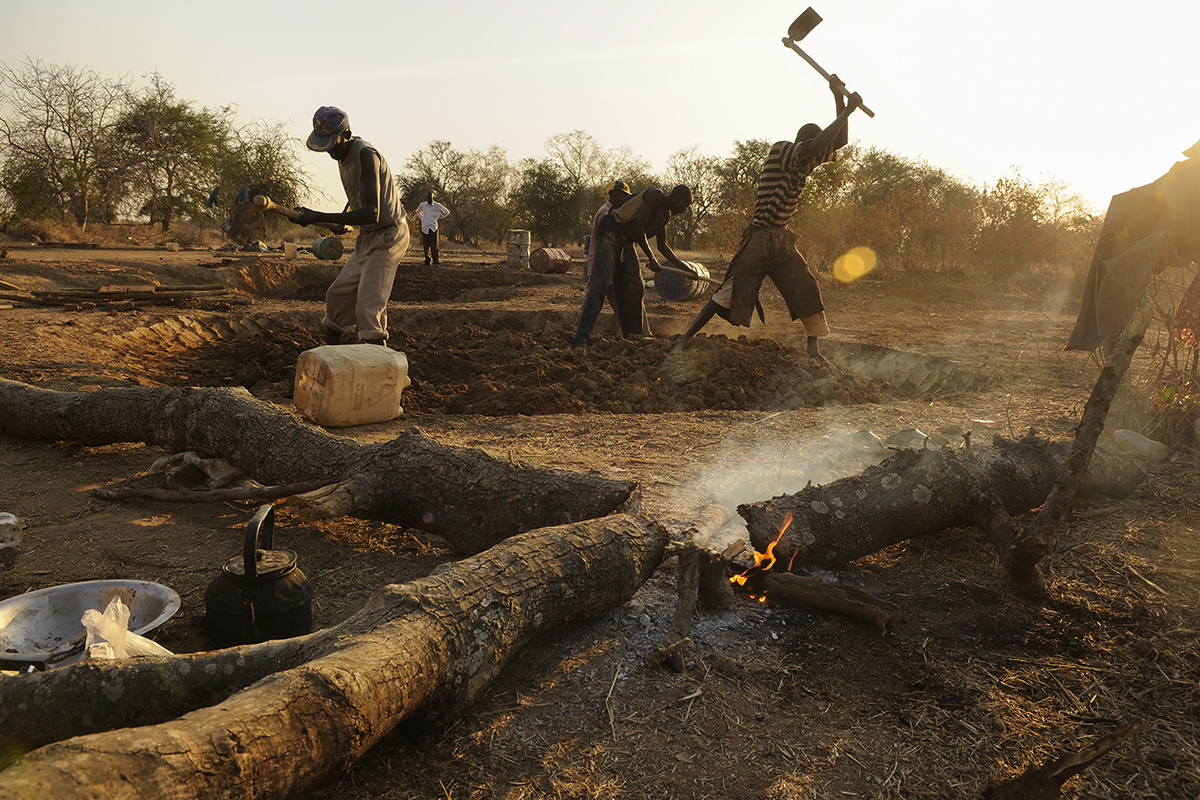 Workers in Wunlang, southern Sudan, prepare the ground to begin building the foundation for a clinic, one of several initiatives spearheaded by Village Help for South Sudan. Angelo Kiir, a former Lost Boy who was resettled in Syracuse in 2001, oversaw the project.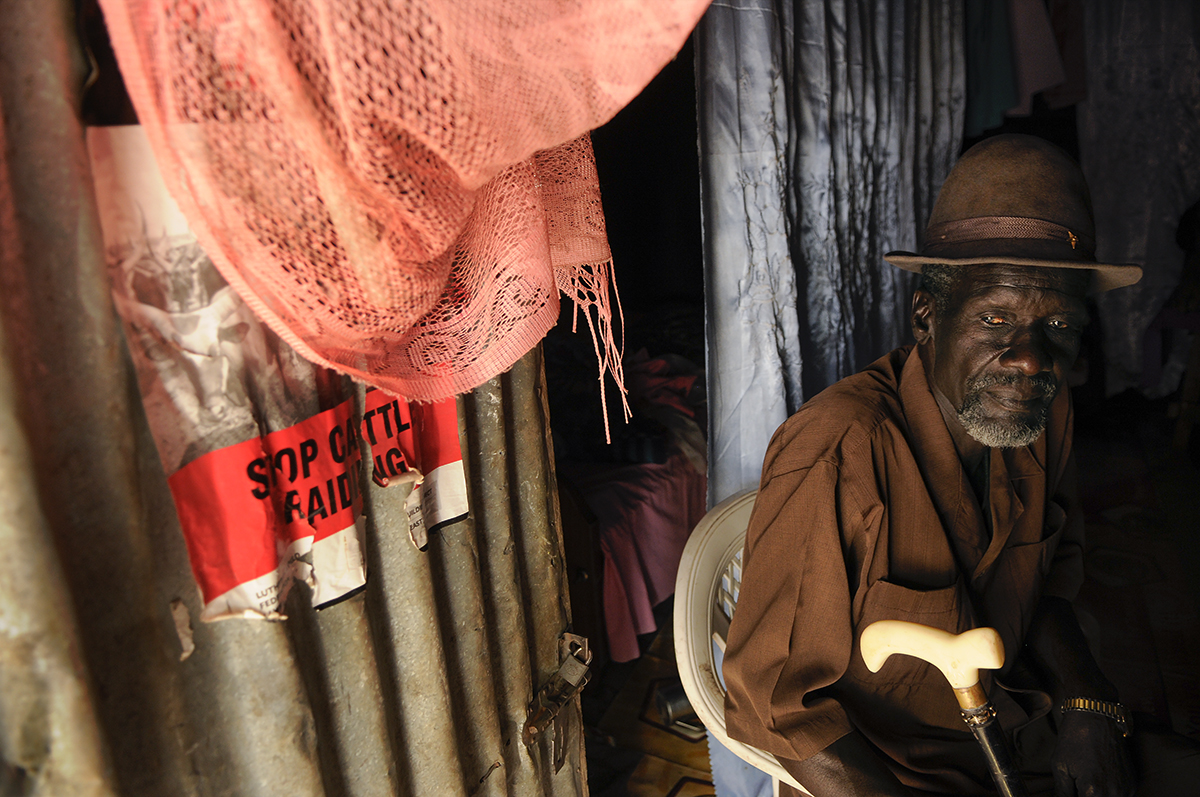 Deng Leek, the father of former Lost Boy John Bul Dau, of Syracuse, in his home in Duk Payuel. "My father was a respected man in our village, a judge and a wrestler," says John Dau in his autobiography, "God Grew Tired of Us." Deng Leek presided over cases including land transfers and cattle.
Cows symbolize wealth in South Sudan. Many regions, including Jonglei State, where Duk Payuel exists, are prone to deadly cattle raids by militias.
Gabriel Bol Deng, who raised money for wells and a school for his home village of Ariang, visits the tree where his mother and his placenta are buried, a Dinka tradition. Garang Deng Majok, Gabriel's uncle, performed a traditional water ceremony blessing Gabriel.